Personalized Engraved Beverage Glasses
Graduation 14 oz Soda Glass
G67GR - Personalized Graduation 14 oz Soda Glass - $16.95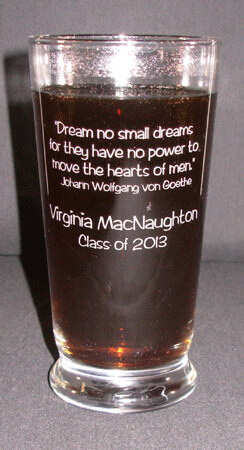 Height: 5.75 Inches
Capacity: 14 Ounces

Price: $16.95 each
The Graduation 14 oz Soda Glass includes a quote from Johann Wolfgang von Goethe ("Dream no small dreams for they have no power to move the hearts of men.") and can be customized with the graduates' name and year and is engraved with the Clarence font. See our 14 oz Soda Glass if you'd like to fully customize your soda glass.
This glass may have minor bubbles or other small imperfections. This is normal and should not be seen as defective.
Ordering Multiples of the Same Glass

If you would like to order more than one of an item with different text on each engraved beverage glass, please note what you would like on each glass. Examples:

Glass #1: Bob

Glass #2: Sue

etc... If you have multiple lines, do the same thing.

Alternately, you can put 'as per email' in the text box and email your individual personalization instructions to orders@fantasyglassworks.com. Please use the same name on your email as on your order so we know which order is yours.

Text Limits

Each individual personalized beverage glass page will have the number of lines and characters allowed below the picture. We do count spaces, but it is okay to go over, we're fairly flexible. Please keep in mind that the more text you want on a custom beverage glass the smaller it will all be.

Fonts

Our stock fonts can be seen on our Fonts page. We can use most Windows fonts - if the font you want is not on our list please feel free to email us with your request and we'll let you know if we have it. If we happen to not have it, you can email us the .ttf file.

Proofs

If you'd like to see a jpg proof of your text and/or design please leave us a note in the comments box and we'll send you one before starting your order. We will be happy to work with you on your personalization ideas. Please note that this is likely to slow production time as we'll wait to hear back from you before starting your engraved beverage glass.

Questions?

If you have any questions or concerns, please feel free to email us or give us a call or text at (815)964-2080. We're open Monday - Friday from 8:00 am to 4:00 pm Central Standard Time. Please note our summer hours are 8:00am to 4:00pm Monday to Thursday.
Have questions? Click here for additional ordering and engraving information or email us at info@fantasyglassworks.com with your question.

Orders take two to three business days (Monday - Friday) to complete - this does not include shipping time, shipping time is one to five business days (Monday - Friday) after the order is completed. If there are any delays, we will contact you by e-mail.